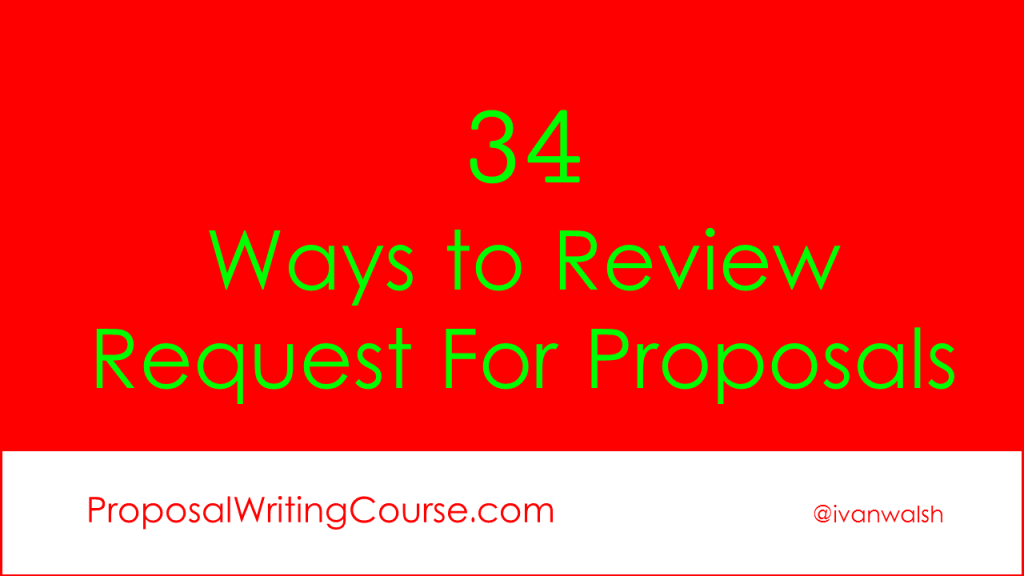 If your next Business Proposal is for an important client, and you're working under pressure to get the document submitted on time, it's easy to get confused and forget something which determines whether you win or lose the bid. One way to avoid this is to use a proposal checklist to identify each requirements in the Request For Proposal.
Request For Proposal Checklist
Use this checklist when proofing your bid and, especially before sending your proposal to the printer:
Official Request For Proposal Documentation
Is the following information correct?
Request For Proposal Name
Document Owner
Request For Proposal Description
Received date
Closing Date
Date Submitted
QA Completed (Yes/No)
Proposal Writing team and Contributors
Do you have all the necessary information from the writing/bid team:
Content Required from:
Date Content Required by:
Content Required from:
Date Content Required by:
Content Required from:
Date Content Required by:
Content Required from:
Date Content Required by:
Proposal Quality Control Checklist
As the Proposal Manager, complete the following quality control checklist:
Identify contributors to the bid document
Confirm dates for receiving documents
Confirm Sign–off dates
Confirm File format e.g. Word, PDF
Confirm Number of hardcopy and softcopies required
Proposal Format, Style, & Grammar
The Proposal Manager can use the following checklist for each Business Proposal, when you check the bid for grammar, language, writing, technical details, cross-references and other information that relate to the bid:
Cross-Reference the Proposal against the Request For Proposal for:
Spelling
Grammar
Language (UK or US English)
Publication Date on Document
Each Chapters / Section has intro text.
Footer has Date & Time
Header and Footers have Titles
Header has Version Number
Graphic Layouts are correct
Figures/Tables are numbered
Correct Fonts e.g. Headings, Body Text etc
Supporting Docs are included, e.g. CVs
Remove Comments/Remarks
Remove Blank pages
Check Cut-and Paste data from other docs
Page Layout set to A4
Page Sequence is correct
Tables layout is consistent
Lists are consistent
Bullets, Diagrams etc print Correctly.
Print Draft Document(s)
Circulate copies for review
Collate all contributions
Monitor Version Control
Highlight gaps to Project Manager and/or Contributors
Highlight issues to Project Manager and/or Contributors
Make Backup copies of Working Docs
Make Backup copies of Finished Version
Graphic Designer Role in Proposal Development
Ensure the Graphic Designer completes the following:
Design/Print Request For Proposal Cover and Back
Design/Print CD ROM Jewel Case Graphics
Design/Print CD ROM Graphics
Package CD
Proposal Print and Assembly Checklist
Even when you have finished all these steps, you can still trip up if you don't have material to print, assembly and post the Proposal.
Ensure you have the following:
Spare cartridges in stock
Correct Paper in stock
Check Spelling on Design Literature
Burn CD and Package
Check CD for correct contents
File Graphics in Project Folder
Check Printers are functioning
What else is needed to make sure each Proposal is submitted on time?
About the Author: Ivan Walsh provides business proposal writing tips, tutorials, and templates on the Proposal Writing Course every week. Get his free proposal writing newsletter here.