Want to know how the order process works? Before you buy one of the templates, it's nice to know how you will get the template, how can you pay, and where do you download the template.
This page explains how the order process works. It shows you how to:
Submit an order
Pay with your credit card or PayPal, and
Download the template
1. Place your Order
Here's how it works.
To get started, click the Buy Now button for the template you wish to buy. You can add more later if you wish. You can also remove items from your basket.
2. Review the Shopping Cart
This opens the eJunkie shopping cart webpage. eJunkie provides the shopping cart. On this page, you'll notice the following.
The green icon in the address bar means that this is a secure transaction.
This is the Klariti logo.
This is the product (or products) you're about to order.
To remove products, click the Remove check box.
Click Update Cart if you've changed the items in the basket. The pages refreshes and shows you what's in your basket.
To place your order, click Checkout with PayPal.
Note: You don't need a Paypal account. If you prefer, you can pay with your credit/debit card. Scroll down and I'll show you.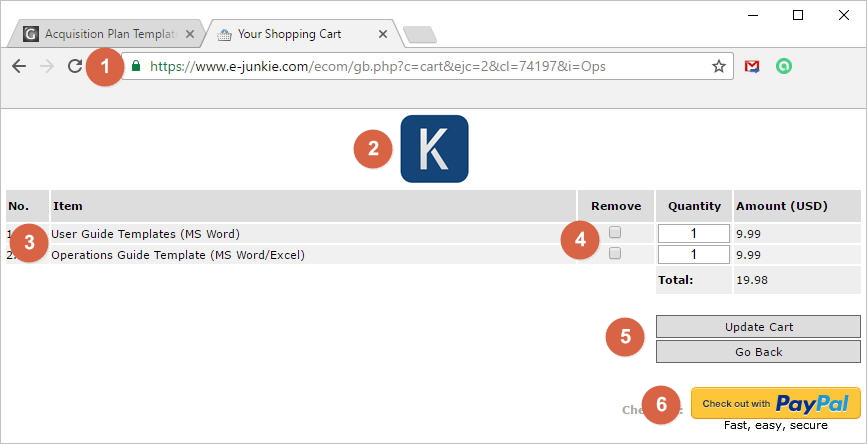 3. Pay with PayPal or your Credit Card
This takes you to PayPal where you can pay for the order.
On the PayPal website, the Klariti logo and the total amount are displayed on the left of the page.
To pay with your credit/debit card, click the second option.
Click Pay with my PayPal account.
OR
Click Pay with a debit or credit card, or PayPal Credit.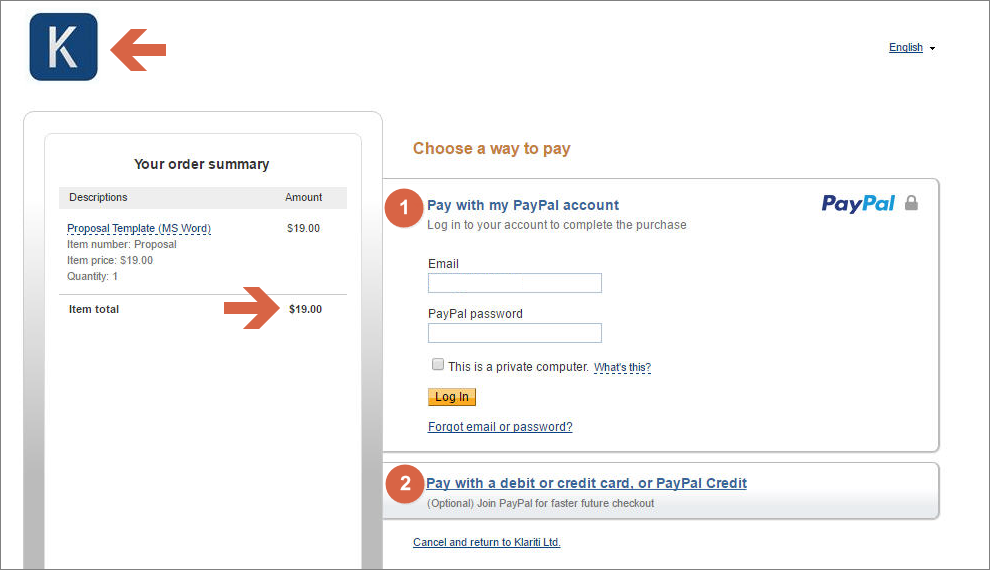 4. Check your Email
After you've placed the order, eJunkie sends you an email with a link to the template.
Click the link in the email.

5. Download your Template
This open a webpage where you can download the template. In this example, we're buying a Cost Benefit Analysis template.

6. Contact Us
If there are any problems with the download, send me the order number and I'll take care of it.
Please email [email protected] or [email protected].
Ivan