This is Part 1 of a 20 part series on writing Business Proposals.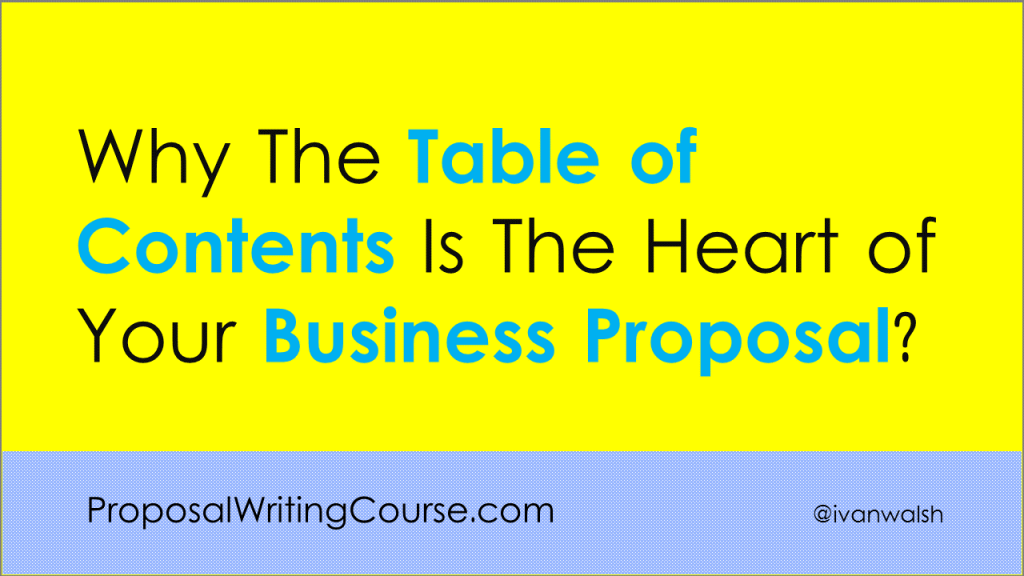 What we'll look in this course is how to get started, format the proposal, and submit it. Once we've done this, we'll look at how to improve your chances of getting the bid accepted, for example, by giving presentations to the Assessors. I'll also show you how to improve your business writing techniques.
And before you say I HATE GRAMMAR, I can guarantee you it's not about grammar.
Ok, some parts will be, but they'll be painless.
Instead I'll show you how to use psychological tricks to get into the reviewers mind. To close the gap between what they need and what you offer. It's very interesting. If you want to stay one step ahead of me, read Chip and Dan Heath's Switch. That will get you started.
Example of Consultancy Proposal
There are different types of business proposals. Each type has its own requirements.
In this course, I'll look at how to write a consultancy proposal and how to avoid the most common mistakes proposal writers make.
For example, this will be of use to government agencies or other bodies that want to procure the services of a consultancy firm, such as an advertising agency, Public Relations or Recruitment firm or another type of company that provides specialist services.
This type of proposal differs from contracts where, for example, you want to use a specific product, piece of equipment or have very exact specifications in mind.
In a proposal for Consultancy Services, you want to determine the most appropriate firm based on their expertise and capacity of deliver based on your needs.
Define the Table of Contents First
To get started, I will create a table of contents for each of the main sections and then drill-down into each sub-section.
Here is the table of contents:
1. Introduction
2. Supervision
3. Deliverables
4. Consultation – Meetings schedule
5. Reports & Presentations
6. Programme
7. Award Criteria
8. Information to be submitted
9. Fee Proposal
10. Conflict of Interest
11. Terms of appointment
12. Ownership of Documents and Copyright
13. Termination of appointment
14. Dispute Resolution
15. Tax Clearance Certificate
16. Withholding Tax
17. Professional Indemnity
18. Confidentiality
19. Submission of proposal
That's it for today. No homework! You get the weekend off.
In the next lesson, we'll look at how to write the Introduction.
About the Author: Ivan Walsh is a Proposal Writer who develops Business Proposal Plans. He also shares Business Planning Strategies on IvanWalsh.com. Follow him on Twitter & Facebook.