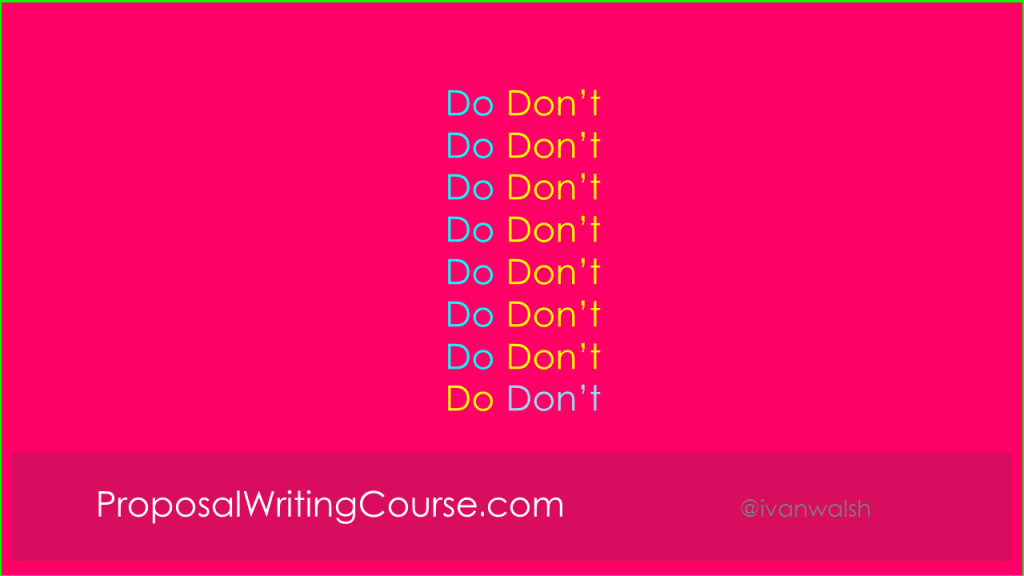 A true story. Five bids arrived. We, the evaluators, tore open the packages and plonked the documents on the table. We'd decided who'd review which bids, and so set about. We meet again later than afternoon.
Note: this was a preliminary stage before the actual evaluation began. At this point, were looking for completedness. Was everything there?
Packaging Your Proposal: Dos and Don'ts
Here's the thing. When we swapped proposals that afternoon, one began to fall apart. Not totally, but the spine had cracked and some pages were coming loose. We took care of this tender thing and handed it around gently…
By the end of the week, it was in bits. We had to use bulldog clips to hold it together. And when the bidder came in for the presentation, it was very hard not to raise the issue.
"You know, your proposal actually fell asunder?"
No one said it. The bid itself was so-so. It was obviously cobbled together in a hurry. It appeared to be printed from different printers or at least on different papers. Not a sin, but odd.
It suggested to us that the bidders were disorganized, clumsy, and unprepared. Their presentation echoed this.
Or maybe we'd already written them off and found holes in their bids they weren't really there. It's hard to say but the impression of the shoddy proposal, falling apart on our tables, clipped together, coloured our thinking.
So, when you've done all the hard work with your proposal, allow time to package it correctly, for example:
Print on high quality paper. Remember the proposal will be handled by several reviewers. If it's on less expensive, cheap paper, the ink will smudge, which leaves a poor impression.
Bind it correctly. Get it done professionally, if possible.
Avoid using glue to hold the document together. Glue cracks. Pages fall out.
Ring binding is popular with reviewers as they can lay the document flat and make comments. Hard to do with other types of binding.
Insert colored tabs in the major sections in the document, for example, add a blue tab for the Costs section. Small things like this should you're considerate and take other people's needs into consideration.
High Impact Cover Sheet. Use a striking image that holds the reader's attention. It doesn't need to be kitsch or shocking but something that makes it stand out. You can buy high resolution images online for less than twenty dollars.
Supervise the assembly. Don't assume everything will be included in the document, especially if a team are working on it. Create a system to make sure everything is included. If one piece is missing, the entire bid is disqualified.