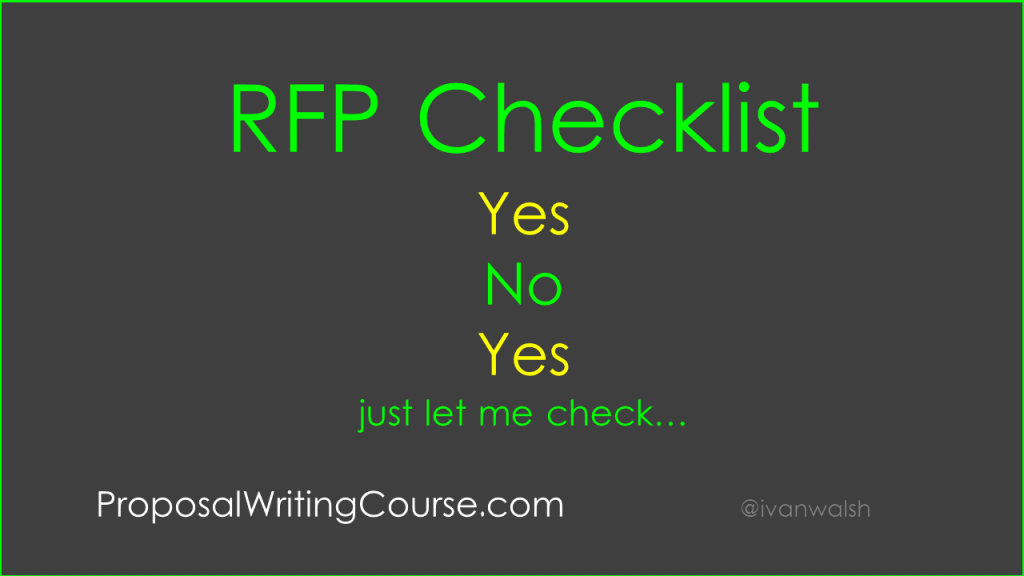 One of the difficulties as a proposal manager is how to organize the documentation related to the bid.
Not only do you have to manage the Request For Proposal document, but you also need to write, submit, and review clarifications, check submission guidelines, and make sure that support documentation is correct, comprehensive and accurate.
How To Maintain Proposal Files and Related Documentation
So, how can you manage all this documentation? Let's start at the top and work our way through:
Templates – save time by using a common template for all proposal writers and contributors. State that content received in other format, eg email, will be rejected. Share this mandate with senior management so they endorse your commitment to developing a standards based approach to your bids. Note: remember to create templates for both Microsoft Word and Excel.
Naming Conventions – use a specific naming convention for all project files. Don't assume others know how to apply these conventions. If necessary, hold a short 30 min workshop. Give examples, take questions, troubleshoot any issues that may arise. This encourages buy-in and while there will be some dissenters, most of the team will get on board if they understand how it works.
Network location – setup a dedicated folder on the network for the bid team. This keeps prying eyes away and allows your team to work on the documents in private. This also avoids writers hoarding documents on local drives and creating their own little power base.
Project Folders – create a series of folders for different parts of the bid, for example, for reference material, boilerplate text, clarifications, presentations, and, if it makes sense, for each of the writers. Structure it so it makes sense to you. Also, create an Archive folder where you can paste files you no longer need but don't want to delete, or at least not yet.
Access Rights – speak to your System Admin and give read/write access to the writers and, depending on your review process, read/write access to reviewers as well. This may depend on the tools you're using to write the documents. But don't let the world see what you're writing. Keep the project documents under control and restrict access to only those who need to work on the documents.
Document Controls – I use software, such as SVN and CVS, to place documents under source control. What this means is that documents must be 'checked out' by an author before they can edit and make changes. I can also see what changes, deletes, errors have been made to the document and compare it to past versions. This works very well if you want to have a master copy that writers paste their materials into. You can use other software that allows many writers to work on the same document at the same time BUT they need to merge their content in the final draft which doesn't always work.
Version Control – if you don't use tools like SVN, make sure that the Microsoft Word documents are under some type of document control. This gives you a limited but useful trail of changes to the document and shows others what changes have been made. Adobe Acrobat (not the Reader) also has editing and commenting tools. Online editing software, such as Agilewords, is also worth exploring.
Archive Process – finally, when the project is finished, move the project documents to a specific archive location. While you may never need to read these again, for legal reasons you need to keep them – and, of course, the day may come when you want to check something. In either case, move files to this location, apply access rights, and make a backup.
Summary
Expect an avalanche of documents to appear when you start writing a Request For Proposal or applying for a grant. Not only do you have your documents to manage but also the agency's documents, responses, and support information, for example, bank guarantees.
By creating a standards-based approach, using proposal templates, and encouraging your team to adhere to guidelines, you can manage these documents a little better. The number of documents will be the same but when you have a system in place, they will be easier to manage, freeing up time to work on other projects.
Make sense. Any questions, drop me a line or get me at twitter.com/ivanwalsh